If the services you sell require upfront costs, you can specify the costs as the Costs of services.
Costs of services (Unit cost, Cost amount) are displayed in Shipments and Sales Returns. To add the Unit cost and Cost amount columns to the table, do the following:
In the Kladana workspace, select the transaction you want to edit.
In the transaction card, click and select the Unit cost and Cost amount using checkboxes.
If the cost of a service is always the same, specify Purchase Price in the service card. It will be automatically indicated in the Unit cost column in the transactions.
In the Kladana workspace, select Inventory → Products and Services.
Click +Service.
Specify the Service name.
Specify the Purchase Price.
In Shipments and Sales Returns you can edit the Unit cost value manually. Click Save to save the changes in the transaction.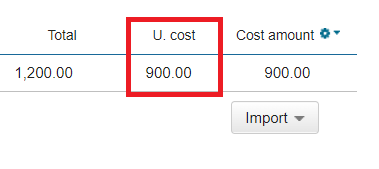 Cost amount cannot be edited manually in Sales Returns based on Shipments. Cost amount of services in bundles cannot be edited in any transaction.
Cost of services is counted in Profit Report, Profit and Loss Report, and in Customers and Suppliers Report.